This little device adds some features I missed from the already great Chase Bliss Thermae pedal.
For inquires and orders contact me at info@elgaratge.com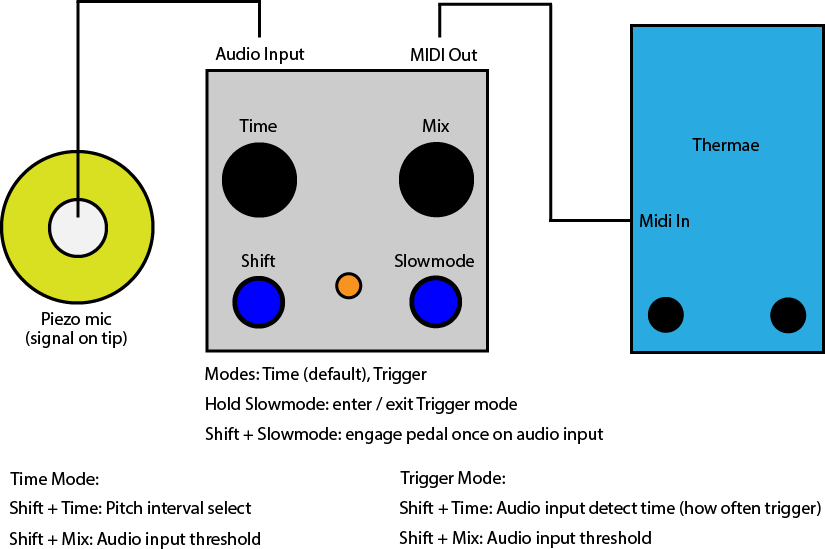 Features:
Delay time (aprox 200ms – 6s)
Mix (useful when ramping is enabled)
Toggle slowdown mode
Pitch Interval select (all possible combinations in a knob)
Advance step from external audio (configurable threshold and retrigger time 0.1 – 0.9s, only for Thermae in step mode)
Engage pedal from external audio
LED to show tempo (time mode) or audio detection (trigger mode)
Specs:
Mini-USB powered
Midi Out (3.5mm stereo minijack) to Thermae (no special cable needed, just 1/4 inch adapter)
Audio In (3.5mm minijack). If using a mono source (microphone, piezo…) the signal must be at the tip of the connector.
2 knobs with different functions depending on mode
2 buttons
LED to show tempo or audio detection
3D-printed case and knobs
Important Notes:
No cables are included.
Midi channel cannot be changed, everything will be sent to Thermae's default midi channel (#2)
This device always sends midi clock, so the Tap tempo of Thermae won't behave normally if pressed with the thermae expander connected.
Any mini-USB power adapter capable of giving >100mA should work.
To properly use the external audio trigger, it is recommended to use an "isolated" audio source like a piezo or maybe an auxiliar audio output from a mixer, additional synth output, etc. A simple minijack splitter from the audio source may not give good results.
Also, to properly use trigger mode, Thermae must be in step mode (dip switch).