After trying to capture an exploding water balloon with a very rudimentary method (see here), I dedided to try again but using a low cost laser barrier and a LDR (Light-dependent Resistor) to get more accurate results.
Materials:
1 Laser diode (5v, a pack of 10 is very cheap on eBay).
5v Power supply (or 4xAA batteries) for powering the laser.
1 small LDR (Light-dependant Resistor)
N3 camera connector (Canon 5D) or minijack depending on camera model.
Also a flash is necessary to freeze the motion, and also using it at the minimum power possible.
Circuit:

Knowing that to shoot the camera with an external cable we need to short-circuit two wires (Shutter and Ground), I put a 100K variable resistor between the two wires and saw that the camera shoot when I set the resistance lower than 25K.
Once we know that resistance, we know that if the sum of the variable resistor + LDR is < 25K, the camera will shoot.
To build the circuit I just put the LDR and the variable resistor in serial and then connected them to the shutter and ground cables of the camera. The variable resistor serves to callibrate the initial status and set the camera to a point that almost shoots. Then, when we point the laser to the LDR, its resistance lowers and the overall resistance between the Shutter and Ground cables will be < 25k, so the camera will shoot. In normal conditions, when the water balloon is in front of the LDR, the camera won't shoot because the LDR resistance is too high to trigger the camera. When the water balloon explodes, the laser beam will illuminate the LDR.
Camera and flash settings:
 Shutter: 1/125 (if there's ambient light it should be faster).
 Lens focus set to manual.
Apperture: f/8-f/12 to get enough DOF.
Flash power set to 1/64 and zoom at 105, about 60cm from the water balloon (on the left). Also, the flash is triggered from a remote emitter in the camera.
Once all is prepared, we just have to tie a water ballon to the rope so that it is placed between the laser and the LDR, and when we make the balloon explode with a needle the camera will automatically shoot.
Original idea: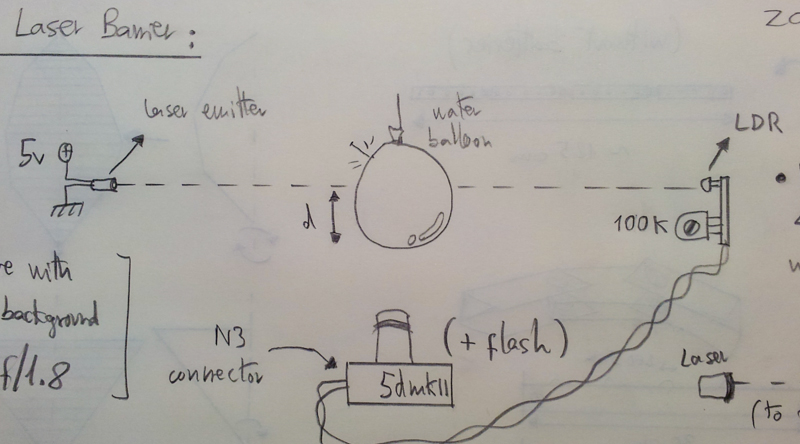 Setup and circuit:

Results:
Notes:
I built the same circuit with a LDR of a greater size and it didn't work so well, so I recommend using a LDR of the same size as the laser point if possible.
I noticed a significant delay between the balloon exploding and the camera shooting, which I didn't find so slow in my old Canon 40D. To solve this I recommend setting the water balloon higher than the camera frame, so that the balloon doesn't appear in the frame until the water balloon falls.